NEWS
IN MEMORIAM: William E. Mullin, 1931-2018
March 12, 2018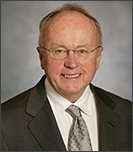 It is with great sadness that we announce the passing of our colleague and friend, William E. Mullin, on March 10, 2018.
Bill attended Georgetown University for two years, and graduated from the University of Minnesota with a B.A. and law degree in 1958. After his law school graduation, Bill served in the United States Attorney General's Office and the Minnesota Attorney General's Office. In 1964, he opened the law firm Mullin, Galinson, Swirnoff. He had his own practice until 1988, when he joined Maslon as a partner and spent the remainder of his career there. His practice at Maslon was devoted to Alternative Dispute Resolution (ADR), including mediations, arbitrations, and independent neutral evaluations.
During his 60-year career, Bill served as the President of the Minnesota Chapter of the American Academy of Matrimonial Lawyers, Chair of the Committee on Family Law of the Minnesota Trial Lawyers, and was an adjunct professor at the University of St. Thomas School of Law. He was awarded numerous awards and honors throughout his career, chief among them, the Professionalism and Civility Award from the Hennepin County Bar Association. Bill was a champion of many causes and always donated his time and resources to advancing social justice. As a young man, he marched with the Freedom Fighters. As an attorney, he was on the board of the Fund for the Legal Aid Society of Minneapolis and volunteered his time at the Children's Law Center. Bill was a marathon runner, an avid skier, and he traveled the world with family and friends. He was devoted to his family.
In Bill's honor, Maslon has made a memorial donation to the Eddie Mullin Fund in BMMRD Research at Mt. Sinai.
Additional Tributes: