publication
Terri Krivosha Authors Book on Founding a Startup
August 1, 2014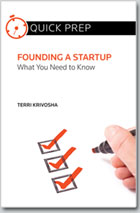 A new book by Maslon attorney Terri Krivosha, Founding a Startup: What You Need to Know, was published by Aspatore Books from Thomson Reuters Westlaw on August 1, 2014 and is available on amazon.com.
Founding a Startup is a comprehensive roadmap for anyone planning to start a business or in the early stages of founding a business. Terri draws upon valuable real-life insights from other founders and experts, as well as her own, gathered through working with early stage companies for over thirty years. She covers a wide range of topics in the comprehensive guide, including developing business plans, creating projections, branding considerations, where to organize and how to structure your entity, dividing equity among the founders, valuation, making the decision to seek outside investors, pitching early angel investors, developing human capital resources including compensation, and governance. Each chapter ends with a list of takeaways that summarize key elements, helping founders to gain a better sense of the landmarks along the startup road and proceed with confidence.
Recently, Terri was featured in an interview about her new book on the Minnesota Cup blog, EntréEd. Minnesota Cup, the largest statewide new venture competition in the country, seeks out aspiring entrepreneurs and their breakthrough ideas.
Look inside the book
Preview Chapter 12: Frequently Asked Questions
(Reproduced by permission: © 2014 Aspatore Books from Thomson Reuters Westlaw).
The full book may be ordered from amazon.com.
Terri Krivosha is passionate about helping businesses grow, succeed, and scale. She works with a vibrant network of entrepreneurial and dynamic businesses and those who fund them, using broad strategic skills together with extensive experience to help her clients achieve success in all phases of their development and growth. She focuses her practice on mergers and acquisitions, financing, contract negotiation, strategic partnerships, distribution agreements, joint ventures, governance issues, exit strategies, and sales and recapitalizations.