NEWS
60 Minutes Interviews MN AG Keith Ellison and the Prosecution Team for the Trial of Derek Chauvin—with Featured Commentary by Maslon Partner Steve Schleicher
April 27, 2021
On April 25, 2021, CBS News 60 Minutes aired an interview with Minnesota Attorney General Keith Ellison, with special segments featuring Maslon Partner Steve Schleicher and colleague Jerry Blackwell as key members of the larger prosecutorial team which achieved the conviction of Derek Chauvin for the murder of George Floyd. The interview was conducted by CBS News Correspondent and Anchor Scott Pelley.
In response to a question posed by Pelly as to whether the verdict changes anything, Steve shared, "Well, we won't know. Right? We're in the middle of history right now. And so that's yet to be seen. But the rest of it is really—up to the world whether it changes, what it changes, to what extent. We're in the middle of this story."
View the full segment: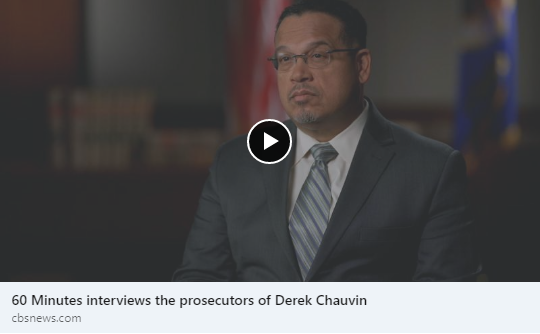 View Maslon's coverage of the trial:
About Steve:
Steve is a highly experienced trial and appellate lawyer who concentrates his work on criminal defense, government and internal investigations, and high stakes civil litigation. A former federal prosecutor, he spent 13 years in the U.S. Attorney's Office serving as the Deputy Criminal Chief of the Special Prosecution Section (2014-2016) and as the St. Paul Branch Chief. Prior to joining the U.S. Attorney's Office, Steve worked at the Minnesota Attorney General's Office and Winona County Attorney's Office. Steve also served 10 years as a JAG Corps Officer in the United States Army Reserve.
Throughout his career, Steve has prosecuted a diverse variety of criminal cases, including homicide, criminal sexual conduct, armed robbery, assault, and other violent crime; complex narcotics conspiracies; racketeering; organized crime; fraud; money laundering, and civil rights violations. He has also had numerous jury trials and has conducted hundreds of investigations. In 2016, he served as a prosecutor on the Jacob Wetterling case and was recognized as an "Attorney of the Year" by Minnesota Lawyer for his dedicated work.
At Maslon, Steve serves as co-chair of the firm's Government & Internal Investigations Group. Steve's notable investigations include a security company holding a contract at a major NFL venue as well as a data security breach and IP theft conspiracy at a major automobile manufacturer. As a business litigator, Steve served as liaison defense counsel for a leading corn seed developer in a consolidated action involving over 65,000 plaintiffs, and he has represented a leading medical device manufacturer in product liability lawsuits in multiple state and federal courts across the country.
*Media Inquiries: For immediate attention, please contact Pamela Erwin Roemer, Director of Marketing & Business Development by email or phone at 612.672.8252.